Neo4j AuraDB Enterprise is a graph database-as-a-service, offered by the creators of the only enterprise
native graph database
. Fully managed and completely automated, AuraDB Enterprise enables developers to rapidly deploy, build, and expand graph-powered applications in the cloud, without the friction of managing infrastructure.
This is the final blog in our five-part series that has reviewed the reasons Neo4j AuraDB Enterprise should be the graph database choice for enterprises in need of building high-powered, highly responsive, mission-critical applications in the cloud. This blog looks at how AuraDB Enterprise is cost-effective, with simple pricing and predictable costs, unlike other cloud-based solutions.
Additionally, with the latest features built into the database, AuraDB Enterprise grows with companies, ensuring their applications are future-proofed against unforeseen changes.
9. Cost-Effective
Simple pricing, predictable costs
Cloud pricing can be a moving target. Pricing structures vary considerably, making it difficult for you to budget accordingly.
Neo4j AuraDB Enterprise is priced in a different way. Pricing is simple: You pay only for what you need with simple capacity-based pricing. You're in control. With flat hourly rates, costs are predictable and transparent. Costs are perfectly aligned with your usage, with no waste from excess capacity.
There are no extra fees for compute, storage, I/O or backups, just your chosen RAM capacity, at flat hourly rates. With Neo4j AuraDB Enterprise, you pay through your cloud marketplace. This means you deploy easily, draw down on your committed spend with your cloud vendor, and get a unified bill across AuraDB and your other cloud services. At the end of the day, it's easy to procure and manage your spend.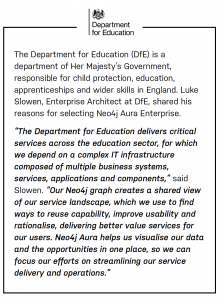 10. Future-Proof
The latest features, ready for you
With Neo4j AuraDB Enterprise, you are guaranteed to get the newest features and upgrades as soon as they are available, while staying backward compatible.
Neo4j delivers new features to the cloud first. That means no waiting for you. Compare this to the typical cycle of applying the latest release: installing the new version, testing it out, then finally deploying it in production. This process typically takes about 18 months. With Neo4j AuraDB Enterprise, you benefit from the very latest graph data platform capabilities immediately and seamlessly.
Conclusion
The five blogs in this series have shown the 10 main reasons companies should adopt Neo4j AuraDB Enterprise as their graph database solution.
Blog one focused on how it is innovative and trusted. Blog two homed in on how it is effortless to use and highly scalable. Blog three pointed out how its speed and security can assist companies in making more effective use of their data.
Blog four showed how it is reliable and encourages productivity. And this final blog centered on how AuraDB Enterprise is cost-effective and future-proof. Taken together, these are 10 compelling reasons Neo4j AuraDB Enterprise should be at the top of the list of any company that's ready to improve how they build cloud-based applications.
Building your application and innovating with your data should be your primary concerns. Neo4j AuraDB Enterprise takes care of everything else.
Neo4j AuraDB Enterprise offers you a clear path forward, with proven enterprise performance and seamless, worry-free operations. You scale your deployment up – or down – as needed.
With Neo4j AuraDB Enterprise, your connected data not only powers mission-critical applications, but unlocks new vistas for learning from the data you already have.
Whether your problem at hand is finding a cure for cancer, shaving years off the mission to Mars, or pivoting to meet new business challenges, Neo4j AuraDB Enterprise positions you to reap immediate business benefits on a solid foundation.
What will your first use case be?
Read the other blogs in this series:
Blog 1:
Advantages of Neo4j AuraDB Enterprise: Innovative and Trusted
Blog 2:
Advantages of Neo4j AuraDB Enterprise: Effortless and Scalable
Blog 3:
Advantages of Neo4j AuraDB Enterprise: Fast and Secure
Blog 4:
Advantages of Neo4j AuraDB Enterprise: Reliable and Productive