Why You Need a Fully Managed Graph Data Platform
Today's developers and data practitioners face a number of challenges:
An urgent need for advanced analytics to inform business strategy
Morasses of siloed data, subject to increasing regulation
Digital initiatives slowed or even stalled
Complex landscapes of systems that need rationalization
Pressure to create an improved customer experience ASAP
Given these combined business and technical pressures, you need a database solution that allows you to make rapid progress on mission-critical initiatives.
Neo4j AuraDB Enterprise is a graph database-as-a-service, offered by the creators of the only enterprise
native graph database
. Fully managed and completely automated, AuraDB Enterprise enables developers to rapidly deploy, build and expand graph-powered applications in the cloud, without the friction of managing infrastructure.
The first blog in this series on Neo4j AuraDB Enterprise examined why the innovative and trusted nature of the database can supercharge business efforts at using graph technology.
This second blog will look at two other reasons the database is beneficial to enterprises: it is effortless to use and easily scalable.
Aura Enterprise
is fully automated and managed, meaning there are no administrative headaches for users. Additionally, because it's in the cloud, it's highly elastic and on-demand, allowing companies to use what they need when they need it without unexpected downtime.
3. Effortless
Zero administration, zero headaches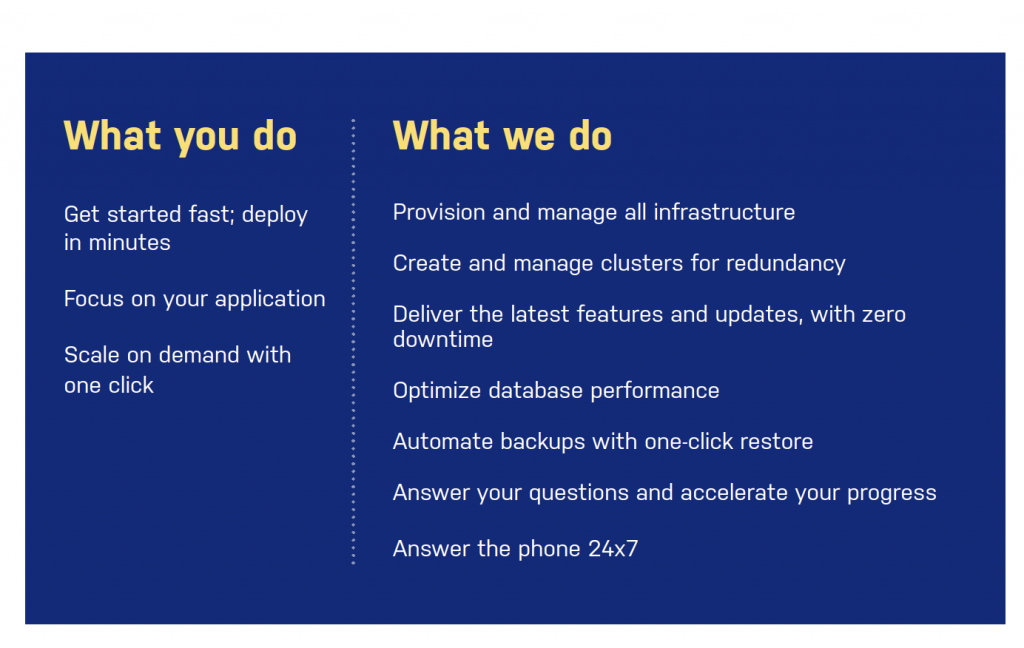 You want to build new applications and deploy cutting-edge analytics on your data. But more database administration tasks? No, thank you.
Neo4j AuraDB Enterprise is completely automated for the cloud, maintained and managed by graph database experts, so you're free to focus on what you do best: your application and strategy.
We take care of the rest.
On-demand, no downtime.
Elasticity
: it's the key advantage of the cloud.
With Neo4j AuraDB Enterprise, you can scale your deployment up and down, managing your application infrastructure to meet the varying needs and demands of your workloads.
Furthermore, there's no downtime; the service automatically readjusts and scales the database without any service interruption or degradation.
For a global user base, you need global scale, with availability zones around the world for enhanced customer experience. When demand spikes anywhere, you scale your instance with a single click.
The next blog in this series will look at another two reasons why Neo4j AuraDB Enterprise is a must-have for companies of all sizes: that it is both fast and secure.