Editor's note: This presentation was given by Liz Maida at Connections 2021.
At Uplevel, a cybersecurity company, we apply graph query machine learning to enhance the effectiveness and efficiency of security operations teams. "A Picture Is Worth 1,000 Rows" really encapsulates one of the core advantages that graphs can provide in cybersecurity. Many times security analysts are stuck reviewing thousands of rows and are trying to find the connections between those rows entirely based on their own experience.
In this blog, I will share some background on how graph algorithms can help automate that process.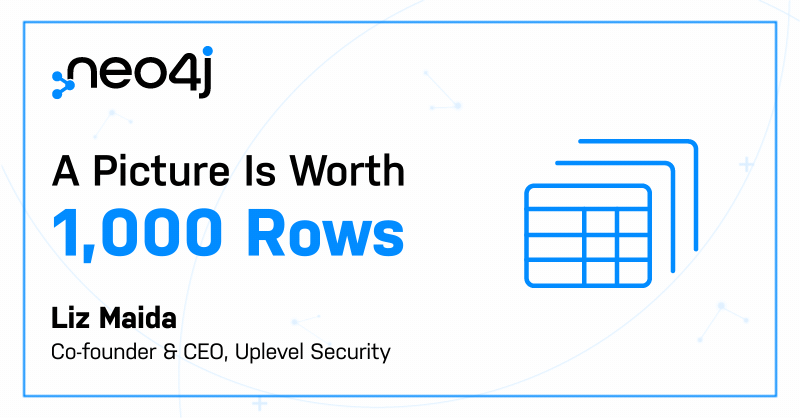 Security Teams Are Overwhelmed With Data
People tend to believe that security is a very technically sophisticated domain, so I wanted to share the reality of the matter. Similar to other industries, there is an overabundance of data.
The average large enterprise usually has over 40 security vendors across the network and endpoint devices. Those vendors are generating over 1,000 alerts per week. To further compound this data problem, the organizations are also receiving millions of pieces of threat intelligence or rules about what should be considered malicious. In the average large enterprise, more than 90% of this security data is thrown away.
The top question that security teams are dealing with is: How does this alert relate to anything we've seen in the past, and is this actually an indication of malicious activity? Due to resource constraints, it's impossible to investigate everything. Organizations are still largely depending on humans spending 16 plus hours investigating an alert and coming to some conclusion about whether it actually represents malicious activity. You may be wondering what security analysts do during this time.
An analyst will copy and paste values from an alert to create a series of searches, using the results from a previous search to inform the next search. Usually they're searching through something like Splunk, which is the example in the image above, or it could be a data lake or database.
Security typically looks at the SIEM (Security Information and Event Management) systems. You can think of it as a large collection of logs. Security analysts will then check random websites, search through emails, and compare their results against spreadsheets, ultimately enriching the information that exists in the SIEM with this open source data. In some cases, the analyst may actually write down the results on paper, almost creating their own directed graph based on their search history.
Since this is such a manual, time-consuming effort, organizations will create and save frequently used searches in advance. These searches are often designed to flag suspicious activity, such as an unusual number of requests from the same IP within a limited timeframe. In order to write these searches, you need to have an idea of what you're looking for.
Teams meet to identify the activity they would consider to be malicious and confirm if the data actually exists in the log store, before writing these correlation searches and essentially creating rules-based heuristics. When something matches these conditions, it triggers an alert similar to the other alerts, but based on more complicated logic.
Some of these rules are written by the security team within the organization itself, and some are actually pre-packaged and provided by the vendor who develops the SIEM. You end up with hundreds of rules from different creators, which can create a huge maintenance burden.
It's a really time-consuming, manual effort to create and analyze the effectiveness of the rules, especially if you weren't the one who originally authored them. There's also a lot of complexity as you end up with many potentially overlapping rules with different priorities, and so trying to sort through which rule actually applies in a certain circumstance is an incredibly challenging endeavor.
After you go through all the effort of creating and managing these correlation services, you end up with a dashboard, like the one below.
The security analyst has to pick something to investigate based on their general instincts about what looks malicious. There are still these inherent limitations in how you determine if these different rules are actually related. While some rules may have been combined as a result of correlation search, it's only because you already knew that the underlying activity indicated malicious behavior.
Graphs Can Provide Visual Indications of Activity Requiring Investigation
Graphs can help with security, not just in terms of visualizing the data, but also analyzing the underlying data. With a graph representation, an analyst can immediately see the clusters of correlated alerts, like in the image below. It should ultimately be investigated as a single unit or as related to significant past events.
Graph Algorithms Can Identify Potentially Malicious Activity
Graph algorithms, such as community detection, can effectively replace the need to write and manage hundreds of correlation rules. There are multiple situations that actually result in having all of these disparate pieces of information connected about the same attack and would warrant the use of graph algorithms. You might have alerts about the underlying event coming from multiple different devices.
A great example of this is on your laptop; you may have antivirus software, Microsoft Defender, and endpoint detection and response all running at the same time. If something bad is happening on your laptop, all of those different pieces of software might actually flag it.
You might also have situations where there are sequential events that are all related to an ongoing attack. A denial-of-service is a fairly straightforward example. It's really the same activity that's occurring, but it's being repeated over an extended period of time. You may have multiple alerts flagging the exact same tactic by the same threat actor. A phishing email campaign is a very common example of this, where you have multiple versions of a very similar email sent to different recipients.
Alerts Data
Finally, you may have a variety of alerts that actually constitute a progressing attack or attack vector. You might see a phishing email that's followed by some registry edits, and then some unusual outbound traffic. In that case, you actually have a lot of the evidence in your log data store. The challenge is figuring out which pieces of data are actually related and constitute that attack vector.
Before we get into more detail about how graph algorithms can be applied, I wanted to quickly provide a highlight of the data that we're dealing with and introduce some terminology.