Welcome to this week's #GraphCast – our series featuring what you might have missed in Neo4j media from the past fortnight.
Last time, I pointed out that we have an incredible
Neo4j Online Meetup
and that you're a square if you're missing out on it (seriously, just sign up). The particular meetup that I shared was a presentation by the International Salmon Data Laboratory (ISDL) and
how they're using Neo4j to track salmon and therefore track climate change
. Good stuff.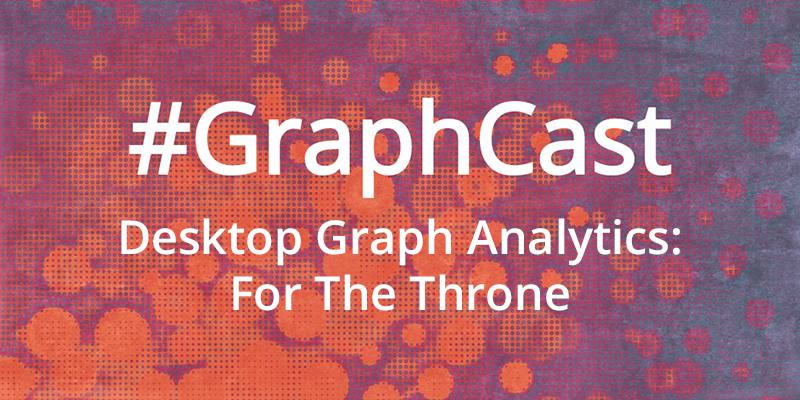 This week…I've picked another Neo4j Online Meetup. But hear me out: If you are a Game of Thrones fan, then this is
your
video, and you can thank me later.
(
I promise I won't pick an online meetup sesh for all of my future #GraphCasts
.)
My colleagues
Irfan
and
Mark
have created a Graph App for Neo4j Desktop called Neuler which opens up the power of the
Neo4j graph algorithms library
for all sorts of
graph analytics
use cases.
So what better data to use to show off the power of graph analytics than the
Game of Thrones dataset
?
In this #GraphCast, they use Neuler to analyze Game of Thrones, and while they might not be able to predict who'll end the show on the throne, they
will
demonstrate how graph algorithms help us understand the show without even watching it.
A big shoutout and thank you to Professor Andrew Beveridge who has made GoT character interaction data available for the 7 seasons that we've had so far.
HBO has been asking what we'd do #ForTheThrone and our answer is…yeah, we'd use graph algorithms. But you already knew that was the answer. Graphs are
always
the answer.
Explore: For The Throne • Game of Thrones • GoT • graph algorithms • Graph Analytics • GraphCast • Neo4j Online Meetup
---
About the Author
Bryce Merkl Sasaki , Editor-in-Chief, Neo4j
Bryce Merkl Sasaki is the Editor-in-Chief at Neo4j. He studied professional and creative writing for undergrad and has been freelancing for 7 years. Recently, he worked at an inbound marketing agency in Philadelphia as a copywriter before moving to California. When not working, he likes to spend his time working on his novel, looking for pickup soccer games and reading voraciously.
---