Unless you live under a graph database rock, then you know that the biggest graph technology event of the year –
GraphConnect 2018
– happened last week, and it was wondrous to behold.
From September 20-22,
Neo4j
customers, partners, celebrities, prospects, skeptics, employees and community members all came together for a fantastic few days of conference sessions, training workshops and a massive hackathon.
In case you missed it (ICYMI) – really, we're kind of wondering why you weren't there – here are the highlights of everything important from GraphConnect 2018.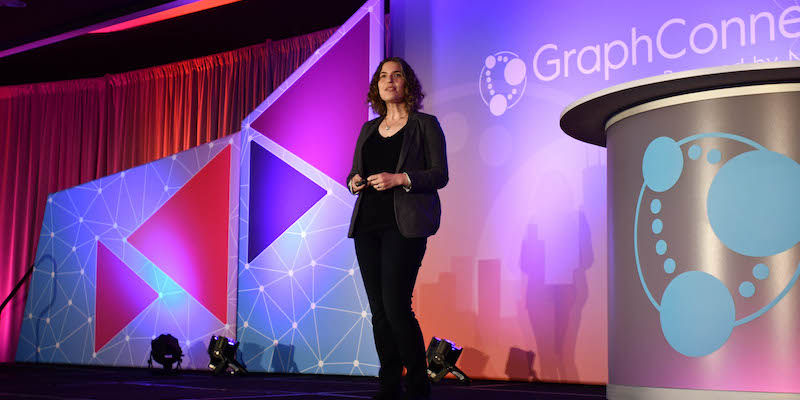 Live-Streamed Keynotes from Hilary Mason & Emil Eifrem (Watch Now)
By far the biggest happenings at GraphConnect 2018 were the keynote addresses by Neo4j CEO
Emil Eifrem
and by
Hilary Mason
, the GM of Machine Learning at Cloudera (also the founding CEO of Fast Forward Labs, acquired by Cloudera in 2017). Both keynotes were livestreamed and are available to watch now.
Watch Emil Eifrem's keynote on the State of the Graph here:
Catch up with Hilary Mason's keynote, "The Present and Future of Artificial Intelligence & Machine Learning" right here:
The video recording of the closing keynote from Stephen O'Grady – Founder and Principal Analyst of RedMonk – will be available soon.
Neo4j 3.5 Announced and Now Available for Preview
It wouldn't be a proper GraphConnect if we didn't give you a breakdown of what's coming up in the latest release of the Neo4j Graph Platform.
During Emil's keynote, Neo4j VP of Products Philip Rathle gave GraphConnect attendees an overview of what features will be rolling out in the Neo4j 3.5 release slated for later this year. Watch his presentation below:
But you don't have to take
our
word for it. Here's a sampling of what the tech press also thought about Neo4j 3.5:
Special Thanks to GraphConnect 2018 Sponsors
GraphConnect wouldn't be possible without our awesome
conference sponsors
who supported the event. Some sponsors also gave talks and participated in the hackathon.
We'd like to extend
extra special thanks
to
platinum sponsor EY
for their support of GraphConnect 2018. Their team shared the Neo4j-based solutions they're bringing to market and had a little fun at the booth with a virtual reality graph explorer that showcased connected data in another dimension.
Throughout the day, the sponsor area was busy with other amazing demos and many meaningful conversations between sponsors and attendees. From data governance to digital transformation, our sponsors showed off their value to Neo4j customers, prospects and even other partners with solutions built on or around Neo4j.
Launch of the Graphs4Good Program
At Neo4j, our company and community vision is to help the world make sense of data. That's why at GraphConnect 2018, we launched the
Graphs4Good program
to connect and enable those who work with data so that they're more effective.
This new program aims to showcase – and then support, encourage and connect others to – graph-powered projects that effect positive social change, uphold democratic principles and take on some of the world's toughest challenges.
Check out
Emil's blog post announcing the launch
. Also, be sure to read
what RTInsights had to say about the impact of the Graphs4Good program
.
2018 Graphie Awards Recognize Innovative Graph Tech
Finally, we wrapped up GraphConnect 2018 with the Graphie Awards.
The
Graphie Awards
celebrate the world's most innovative graph technology applications, recognizing success in connected data across multiple categories – not only for Neo4j customers but across the entire Neo4j community and ecosystem.
Read about this year's 11 winners – including Microsoft, Adobe, Comcast, eBay, Pitney Bowes and more – in
this wrap-up article of the 2018 Graphie Award winners
.
It's Never Too Early to Think about Next Year
We really hoped you enjoyed GraphConnect 2018 – or that you now insanely regret not going!
We couldn't have done it without all of the many contributions by Neo4j partners, customers and community members who not only made the event a success but also make the Neo4j ecosystem such a joy to be part of throughout the entire year.
Video recordings of all other breakout sessions will be uploaded to the
Neo4j YouTube channel
in the next two to three weeks. Be sure to subscribe and enable notifications so that you know precisely when GraphConnect videos drop on our channel.
It's never too early to think about next year and what GraphConnect 2019 will hold – and what you might contribute to it. We hope to see you there.