This past November has shown us why we're so thankful for the Neo4j community.
We're especially grateful to all of you who published great articles about your projects, libraries and integrations with Neo4j on everything from Ruby on Rails and Meteor.js to openCypher and Apache Spark.
Below are some of the best articles and blog posts from outstanding Neo4j community members. Enjoy!
If you would like to see
your
post featured in January's "From the Community" blog post,
follow us on Twitter
and
use the #Neo4j hashtag
for your chance to get picked.
Articles and Blog Posts
Want to present your groundbreaking graph idea to an even bigger audience? Click below to submit your presentation idea for GraphConnect Europe on April 26, 2016 in London. Get your idea in before January 29, 2015!
Explore: apache spark • Big Data • community • Graph Analytics • graph database • graphconnect • meteor.js • Neo4j Community • opencypher • Recommendation Engine • ruby on rails
---
About the Author
Kiana Kuns , Community Curator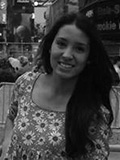 Kiana Kuns is a community curator for the Neo4j blog.
---