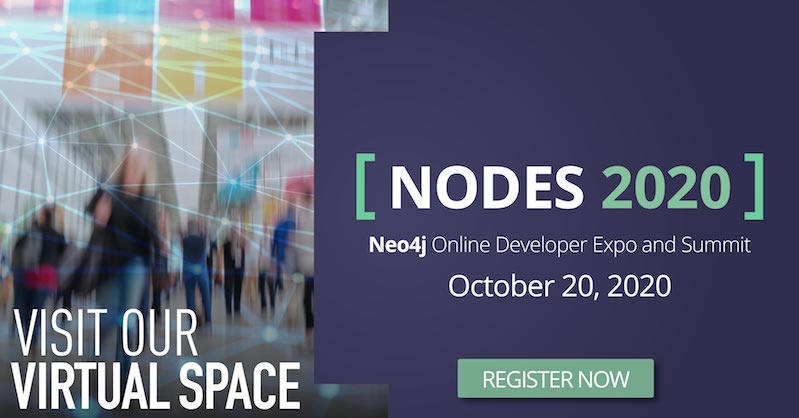 NODES 2020, on October 20 (pssst… that's tomorrow!), is shaping up to be epic!
Along with 70+ presentations from leading graph database experts and multiple talk tracks – all content that's 100% for developers – we're also featuring a Virtual Space for our sponsors to showcase their innovative solutions that complement Neo4j's graph technology.
Much like a live event, the
NODES 2020
Virtual Space includes 11 exhibitors conducting demos and answering your burning, graph-y questions. And just like an onsite expo, there will be prizes!
This is an exciting time for Neo4j and its partners, as we continue to innovate and deliver graph database solutions across a comprehensive array of use cases and verticals.
Here's what a few partners featured in the Virtual Space are saying:
"Google Cloud is really pleased to be taking such a significant role in this year's NODES 2020 conference. We see great value in the use of Neo4j AuraDB and, similarly, opportunity in significant growth and demand in its usage across various sectors. I look forward to connecting with the global graph developer community this year." – Robert Kubis, Cloud Developer Advocate, Google Cloud
"The Virtual Space at NODES 2020 gives us the opportunity to highlight the power and need for comprehensive dependency mapping analysis within the context of software development. We'll cover a number of business-critical use cases and best practices that inevitably assist our Dev/Ops community to save time and optimize their efforts." – Greg Wunderle, CEO, Crosscode
"Money laundering and fraud detection is of course among the top concerns for most enterprise organizations, especially in the banking, financial services and Insurance industries. In our Virtual Space, we'll highlight some key resources to illustrate the value of graph analytics and data visualization in one platform to give you the immediate answers you need to detect and neutralize criminal networks before they impact your business." – Jean Villedieu, Co-Founder, Linkurious
Full List of Virtual Space Sponsors
NODES 2020 gives our community and aspiring developers a view into the technology that fuels innovative application development for the foreseeable future. All sponsors are Neo4j partners and are members of the Neo4j Partner Network.
When you enter the Virtual Space, the following sponsors will be showcasing their tech:
Crosscode
Building scalable, competitive and reliable applications means understanding and taming the complexity and dependencies found across the spectrum in today's IT landscape.
Crosscode
provides developers with the most comprehensive and automated application dependency mapping tool available, as well as the freedom and agility to work with the most scalable and innovative technologies for any datasets.
Visit Crosscode and you'll learn when to choose a graph database over an RDBMS from Jon Gentsch [Senior Software Engineer, Crosscode] and Robert Vrooman [Senior Software Engineer, Crosscode]. They'll highlight how to easily transition your data from applications based on the traditional SQL-driven RDBMS to Neo4j graph database technology – with a dynamic-schema architecture and powerful Cypher query language – resulting in speeds, scalability and reliability that give you a 360-degree view of dependencies found across platforms, applications, databases and APIs in real time.
Precisely
Graph-Powered Enterprise 360: Graphs at the center of a data fabric.
Check in with
Precisely
, the global leader in data integrity, providing accuracy and consistency in data for 12,000 customers in more than 100 countries, including 90 percent of the Fortune 100.
Precisely's data integration, data quality, location intelligence and data enrichment products power better business decisions to create better outcomes.
Internuntius
Don't shortchange the impact of your data insight. The data-to-decision process requires thoughtful effort in composing a narrative through line, effective enough to inform decision-making and drive enterprise strategy. Yet, most of the effort in mining data insight is focused on data shaping.
Internuntius
Chief Geek, Bryant Avey, shares tips on how you can streamline your data-shaping pipeline using Neo4j and Power BI. These two powerful tools, when used together, allow you to focus on what's important – the story of your data.
Google Cloud
Meet your business challenges with with cloud computing services from Google.
Developers and Data Engineers are turning to the power, agility, reliability and security of
Google Cloud
to build applications that meet the challenges faced by today's businesses. Strategic partnerships with technology leaders like Neo4j allows us to tightly integrate such services into Google Cloud, making it easy for enterprise customers to build and use apps in the public cloud.
Our integrated solutions support developers and data engineers in building and enriching their applications on Google Cloud while keeping productivity, and application + data security at top of mind.
LARUS/Fujitsu
When we use AI to predict the risk of an investment, take lending decisions, provide explanations for high-scoring cases of suspected fraudulent activities or recommend a medical treatment, black-boxed AI is not suitable. Human experts must be able to validate the truth of AI-produced results and gain new insights – graph technologies add the required context for this level of explainability.
At NODES 2020,
LARUS
will introduce "Galileo XAI" – the brand new LARUS graph-based platform for explainable AI powered by Fujitsu Deep Tensor®.
Structr
Gartner predicts that by 2024 more than 65% of all companies will use low-code as an alternative in software development. This is not least due to the lack of software developers in all industries. At the same time – as we all know – the popularity of graph databases is constantly increasing due to their outstanding flexibility and speed.
The
Structr
team shows how these two trends can be addressed with a single software application platform.
Linkurious
Because your graph intelligence platform should be more than just a pretty face…
Linkurious Enterprise
takes your big, complicated connected data and translates it into an interactive graph visualization that's both powerful and intuitive – allowing you to analyze everything the criminals have been up to with ease.
Empower your teams of analysts and investigators with the next generation of graph-based technology to detect and investigate even the most complex criminal networks today and catch the bad guys! And you know wanna know something? It's kind of fun.
yWorks
Neo4j is great for storing and processing large amounts of connected data. A good visualization provides data insights that aren't obvious by looking at the raw data. yFiles – the superior diagramming SDK – offers layouts, interactions and animations to create rich and meaningful representations of your Neo4j database.
Meet the diagramming experts from
yWorks
at their virtual booth on Neo4j Nodes 2020 and get all the answers you need.
Kineviz
Kineviz
presents GraphXR as a browser-based SaaS platform empowering subject matter experts to perform code-free analysis of connected, geospatial, temporal, high-dimensional and big data in a unified interface.
GraphXR has been adopted for a range of applications by customers in medicine, law enforcement, counterterrorism, and business intelligence.
GraphAware
GraphAware
is showcasing Hume – a graph-powered insights engine. It's an ecosystem for intelligent systems built upon the combined power of collaborative knowledge graphs and machine learning. Hume's unique approach helps organizations to integrate siloed, heterogeneous data from multiple data sources into easy-to-understand knowledge graphs.
Because knowledge graphs are easily accessible by people and machines alike, Hume enables augmented intelligence building through person-to-person and person-to-machine collaboration.
Hackolade
Hackolade
is the pioneer for data modeling of NoSQL databases, big data storage formats, REST APIs and JSON in RDBMS.
Data modeling is a best practice to help ensure that a graph-based application will evolve, scale and perform well. The software is user-friendly and simple to use, yet provides powerful visuals and graphic data modeling to smooth the onboarding of NoSQL technology.
Hackolade helps functional analysts, designers, architects and DBAs involved with NoSQL technology achieve greater transparency and control, resulting in reduced development time, increased application quality, and lower execution risks across the enterprise.
About the Neo4j Partner Program
The Neo4j Partner Program (NPP) enables solution and technology businesses to meet the needs of the global enterprise customers who are rapidly adopting graph technology. This program helps partners create and sell Neo4j solutions by offering valuable resources and support.
More than 75% of Fortune 100 companies already work with Neo4j and its hundreds of partners across the globe. Of those global enterprises, over 50% run Neo4j Enterprise Edition in the cloud, opening up hundreds of partnership opportunities for cloud consulting and deployment.
Neo4j customers and prospects look to the Neo4j Partner Program (NPP) for subject matter expertise and proficiency in designing and implementing highly impactful solutions built on Neo4j. As Neo4j continues to democratize mainstream data management platforms and integrations with popular Business Intelligence (BI) tools and workflows, opportunities for Neo4j partners will abound.
Well, what are ya waiting for? Go to the NODES 2020 main page for all event details and register for this monumental virtual graph database event for developers.
Register Now