Note: Timings for all events are listed in the local timezone detected from your browser -
Graph-Powered NLP : Neo4j, Python, and LLM Workshop @ Pycon India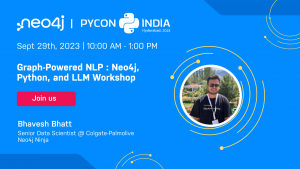 Note: To participate in PyCon India, please ensure you purchase your tickets directly from KonfHub (https://konfhub.com/pyconindia2023#tickets). RSVP on this meetup registration will not grant access to PyCon India.
Are you ready to dive into the world of graph databases, harness the power of natural language processing (NLP), and build intelligent applications that understand and respond to human queries?
Join our "
Graph-Powered NLP: Neo4j, Python, and LLM Workshop
" at Pycon India to embark on an exciting journey that combines the strength of Neo4j, Python, and Google's Large Language Models (LLM) for a comprehensive exploration of data management and conversational interfaces.
Facilitator:
Bhavesh Bhatt, Senior Data Scientist @ Colgate-Palmolive
Facilitator Bio:
Bhavesh is a Senior Data Scientist at Colgate-Palmolive & a YouTuber with 50k+ subscribers. In his Data Science journey so far, he has had the honour of becoming a Google Developer Expert (GDE) in Machine Learning, Neo4j Ninja, GitHub Star & also being recognized as a 40 Under 40 Data Scientist by Analytics India Magazine. He recently received the Best AI/ML product of the year at Cypher 2022
Co-Facilitators:
Jason Koo, Developer Advocacy Manager @ Neo4j and Alison Cossette, Data Science Advocate @ Neo4j
Co-facilitator Bio:
Jason Koo:
Mobile Developer turned Pythonista, Jason Koo is a Developer Advocate Manager at Neo4j focused on supporting the Python community and a small but mighty team of Technical Advocates. He regularly speaks at developer meetups and conferences up and down the US West Coast. He also organizes and hosts a thriving Graph Database Meetup group in his hometown of sunny San Diego.
Alison Cossette:
Alison Cossette is a Graph Data Science Advocate at Neo4j with over 10 years of experience applying graph analytics and machine learning to generate business insights. She founded ExplainIt.ai to advocate for responsible AI solutions and empower data-driven decisions through education. An educator and thought leader, she has taught hundreds of aspiring data scientists and shares her passion for graph data science and responsible AI through speaking and podcasts.
PyCon India 2023 is the premier conference for Python enthusiasts and professionals, offering an unparalleled opportunity to dive deep into the world of Python and explore its limitless potential.
Purchase Tickets:
Secure your spot at PyCon India 2023 by purchasing your tickets today. Don't miss the opportunity to connect with fellow Python enthusiasts, attend insightful sessions, and be a part of the community.
Buy tickets:
https://konfhub.com/pyconindia2023#tickets