The World's Leading Organizations Rely on Neo4j
With more than 950 enterprise customers, Neo4j is the world's leading provider of scalable graph technology, enabling connected data applications for more than 75% of the Fortune 100.
3 of the Top 5 Aircraft Manufacturers
Aircraft manufacturers like Airbus rely on Neo4j to connect and solve complex data problems.
8 of the Top 10 Insurance Companies
Top insurers like die Bayerische and Allianz rely on Neo4j to manage information and fight fraud.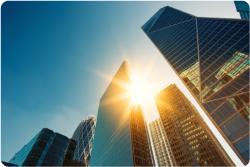 All of North America's Top 20 Banks
Leading banks like JPMorgan Chase, Citi, and UBS rely on Neo4j for data lineage, customer 360 and regulatory compliance.
Read the Forrester Report
Neo4j is recognized as a Leader in The Forrester Wave™: Graph Data Platforms, Q4 2020. Of the 12 graph data platform providers cited, Neo4j received the highest scores in the current offering and strategy categories.
According to Gartner, "By 2025, graph technologies will be used in 80% of data and analytics innovations, up from 10% in 2021, facilitating rapid decision making across the enterprise."
Source: Gartner, Top Trends in Data and Analytics for 2021, Rita Sallam et al., 16 Feb 2021.
8 of the Top 10 Automakers
Top automakers like Volvo Cars, Daimler and Toyota rely on Neo4j to drive innovative manufacturing solutions.
3 of the World's Top 5 Hotels
Top hotel companies like Marriott and AccorHotels rely on Neo4j to manage complex and rapidly-changing inventories.
"One thing that's very important about graphs is that you can query traversals of many, many, many different entities and still get a very linear consistent response. You'll never have the graph database just simply fall over, and throw up its hands, and say, 'I'm out of memory,' which happens all the time in SQL."
Michael Moore, Executive Director, Enterprise Knowledge Graphs & AI, EY
"Over the course of two years, €2 millions of operational profit value was identified. This value is even structurally underestimated."
Sudaman Thoppan Mohanchandralal, Chief Data and Analytics Officer, Allianz Benelux
"Neo4j has met the needs of our product teams and delighted our customers. It's performant, scalable, and we expect it to continue to help us expose and build new airline data products and services."
Navid Abbassi, Chief Architect, ATPCO
Why Do Leading Businesses Choose Neo4j?