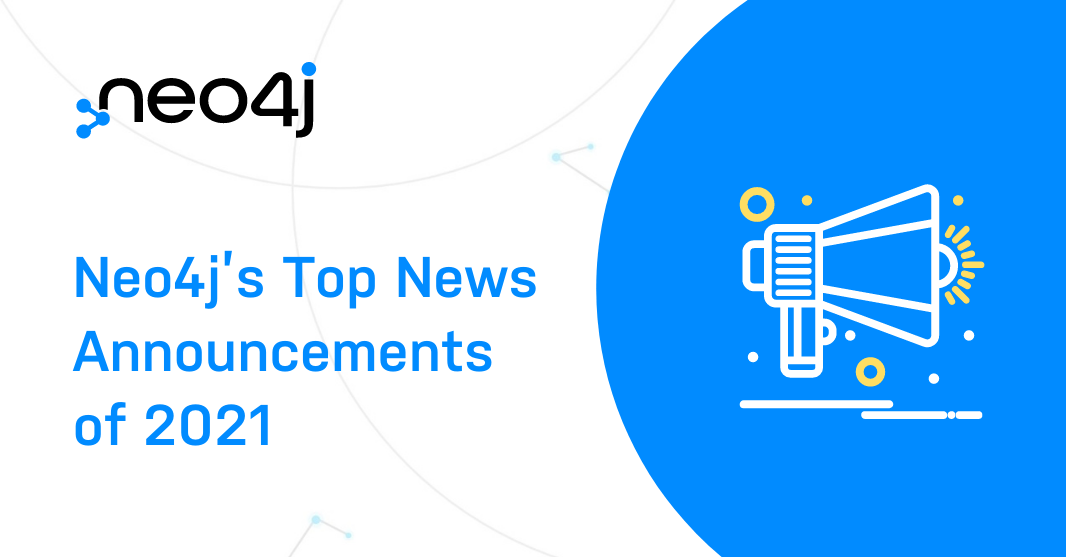 While many had no idea what to expect of the year 2021, I think it shaped up to be an interesting, and – shall I say – a very eventful one!
Yes, we did still face challenges, like supply chain disruptions, remote work woes, and virtual events, to name a few… but we also celebrated the growth of our company and the industry, new board members, products, and more.
Now, let's take a quick walk down memory lane and reflect on what made this year so remarkable!
Big News for Neo4j
Series Fundings and New Board Appointments
Neo4j proudly announced its
Series F funding
round as part of a $325 million investment led by Eurazeo, with participation from GV, representing the largest investment in a private database company, and raising the company's valuation to over $2 billion! And it doesn't stop there. The company also shared the news of its
Series F extension
, bringing the total round to $390 million. Neo4j also welcomed two new board members, Nathalie Kornhoff-Brüls of Eurazeo and Patrick Pichette of Inovia and former Google CFO, as part of the exciting funding announcements.
Forrester TEI Study
The
2021 Forrester Total Economic Impact™ (TEI) Study
, commissioned by Neo4j and conducted independently by Forrester Consulting in 2021, provides a detailed analysis of realized business value and cost savings for Neo4j customers of 417 percent! It also provides a model for determining the economic value for any organization considering implementing graph technology.
Exploring the Pandora Papers with Neo4j
In October, the International Consortium of Investigative Journalists (ICIJ) revealed the
Pandora Papers
, exposing how politicians, royalty, and fraudsters used offshore tax havens to hide assets, secretly buy property, launder money, and avoid taxes. The world's largest-ever journalistic collaboration, the Pandora Papers involved over 600 journalists from 150 media outlets in 117 countries to handle a 2.94 terabyte leak (that's 11.9 million confidential records) from 14 offshore service providers.
Throughout the investigation, researchers used Neo4j to create a graph database and map relationships between offshore companies and their beneficial owners.
"We would like to be able, with Neo4j, to export all this metadata we have in the documents to automatically generate a graph of relationships between people inside our data," said Pierre Romera, CTO. "If we managed to do that, the power of graph database is absolutely central."
Neo4j Breaks Scale Barrier with Trillion+ Relationship Graph
At this year's virtual Neo4j Online Developer Expo and Summit (NODES) held in June, Neo4j demonstrated its super-scaling technology to show real-time query performance against a graph with over 200 billion nodes and more than a
trillion relationships
, running on over one thousand machines! To put it into perspective, a graph of a trillion relationships could house a social graph detailing how every person on the planet is connected.
Ecosystem + Cloud
Introducing Neo4j AuraDB Enterprise + AuraDB Free
Not only did Neo4j introduce
AuraDB Enterprise
, its fully managed cloud database for organizations building indispensable, high-performance graph applications, but Neo4j also introduced
AuraDB Free
, a perpetual free tier of AuraDB. Organizations including Levi Strauss & Co., The Orchard, Worldline, Boston Scientific, and others have adopted the tool to help with various use cases, including digital transformation, supply chain management, fraud detection, and more.
Neo4j Announces 2021 Graphie Award Winners
Earlier this month, Neo4j
announced the winners
of this year's Graphie Awards, including
Pfizer
,
Amazon Business
,
Volvo Cars
,
Levi Strauss & Co.
,
Lenovo
,
Standard Chartered Bank
, and many more. An annual award that honors and celebrates those who demonstrate excellence in innovation and implementation of graph technology, this year's nominations eclipsed all prior years, having received nominations spanning more than 10 countries.
Applying Graphs to Real-World Problems
NASA, DZD, TCS, and More Use Neo4j Knowledge Graphs for Next-Level Digital Transformation
Two thirds of Neo4j customers have implemented
knowledge graphs
to redefine what is possible in data management and analytics. Such use cases span medical research, skills mapping, sustainability, data analytics, fraud detection, data compliance, machine learning, and more. Neo4j outlined three key trends that have spurred this accelerated adoption:
A shift toward automation, driven by AI and machine learning
Context-rich, comprehensive applications that grow with evolving business requirements
Increasingly complex, connected data that's easily navigated, analyzed, and understood
World's Leading Companies Use Neo4j to Enhance Cybersecurity
Neo4j announced a
rise in adoption
from organizations seeking to leverage graph databases to strengthen cybersecurity strategies in response to increasingly sophisticated threats. With the digital economy flourishing,
68 percent of business leaders
have recognized their cybersecurity risks are also increasing, urging many to invest in the right tools. Gartner has predicted the global information security market will reach a staggering
$170.4 billion USD by 2022
.
2021 was without a doubt a very exciting time at Neo4j, and though it flew by incredibly fast, we're certainly looking forward to what 2022 has to offer!
Happy Holidays and warm wishes for the New Year!