Desktop operations
This section gives an overview of the various operations that can be performed from Desktop.
1. Create and manage a new DBMS locally
When you first open Neo4j Desktop with the aim of creating a new DBMS, you need to have a Project for your DBMS. From the Projects menu on the sidebar, either select an existing Project or create a new one. Once you have a Project open, you can add a new DBMS to it from the Add dropdown menu in your Project.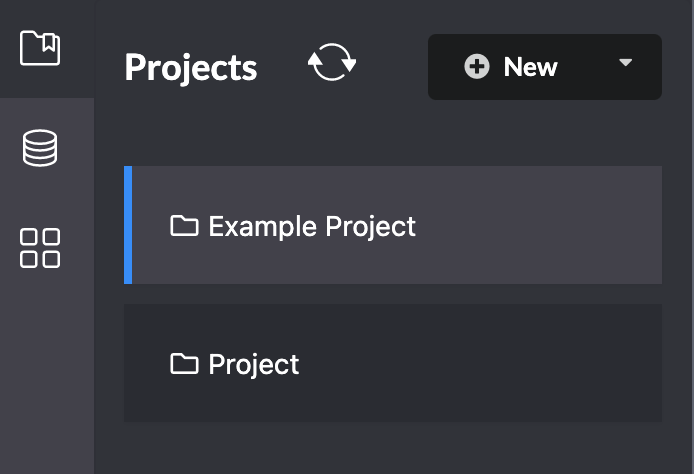 Desktop requires you to create a password for your new DBMS and select a version of Neo4j. Keep in mind that if you select any version other than the default, Desktop needs to download resources and therefore you must be connected to the internet.
You can name your DBMS if you like, otherwise it will simply be called Graph DBMS. Once you are satisfied with the details, you finalize with the Create button. Your new DBMS is visible shortly thereafter in your Project and is ready to be started.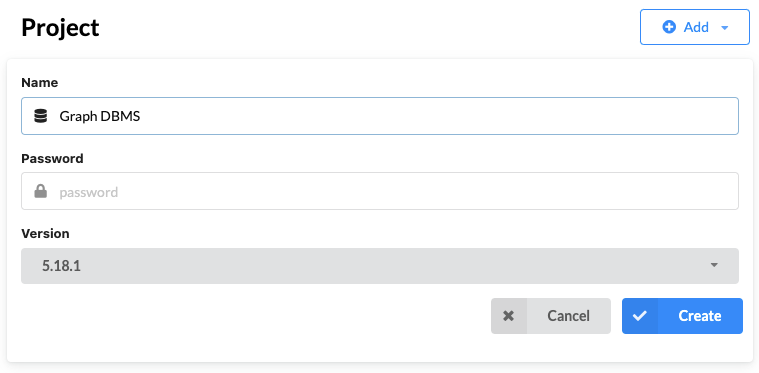 2. Connect to a remote DBMS
If you have a DBMS running remotely, you can connect to it from Desktop by using a Remote connection. Start by adding a Remote connection in your Project and enter the URL of your remote instance, for example bolt://:7687.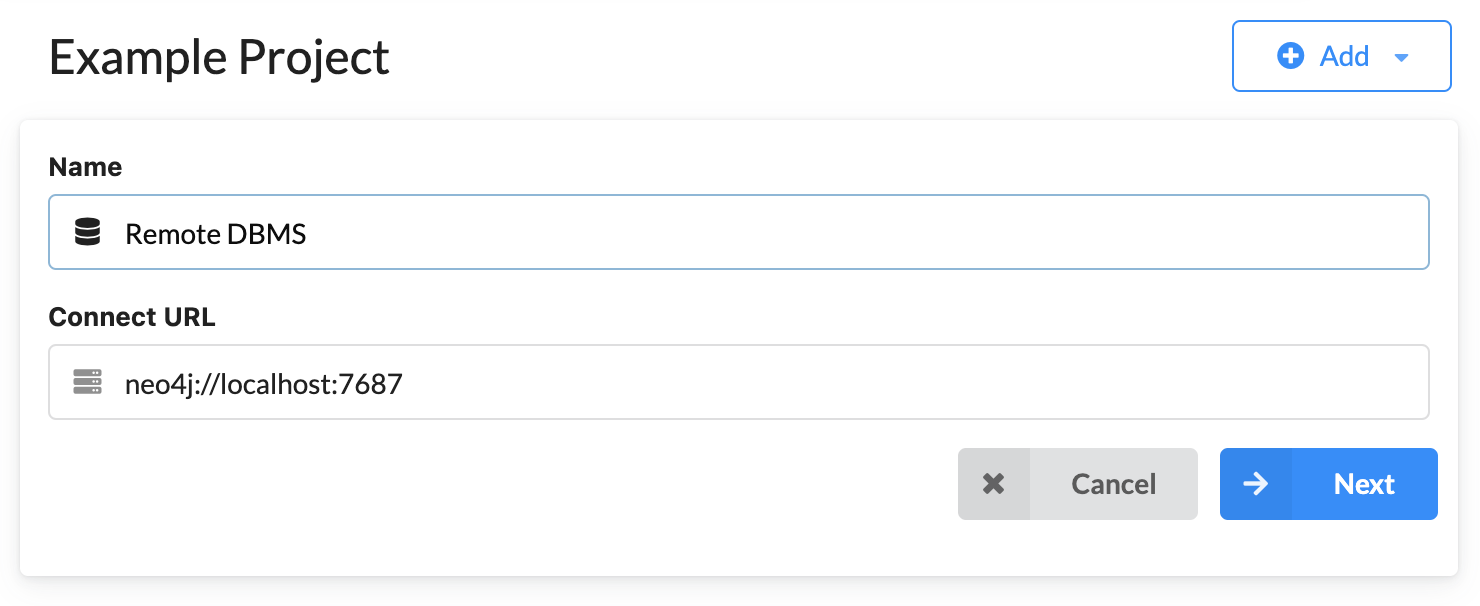 In the next step, you are required to enter your credentials. When you start Neo4j Browser, you will be connected to your remote graph.
Keep in mind that the remote instance needs to be started and that the listen_address is configured as such:
dbms.connectors.default_listen_address=0.0.0.0=true
Also, make sure that the firewall on your remote instance allows inbound connections to the defined bolt port (by default: 7687).
3. Use a graph app with active connection
When you have started a DBMS locally, or connected to a remote DBMS, you have different options to start Browser, or any other installed graph app, to interact with the active graph
You can access your available graph apps by clicking Open from the top bar displaying the active DBMS, or by clicking the same in the list of DBMS's in your project (the Open button is only available if the DBMS is running). You can also use the Graph Apps on the side-bar or, if you already know which Graph App you want to use, you can use the Action Bar.
The Action bar is accessed by clicking the magnifying glass in the top right corner or by the keyboard shortcut Cmd + K on Mac or Ctrl + K on Windows.

4. Install a plugin
For each DBMS, active or not, you have the option to install a plugin library. This can be accessed by selecting a DBMS on clicking the Plugins-tab in the pane on the right.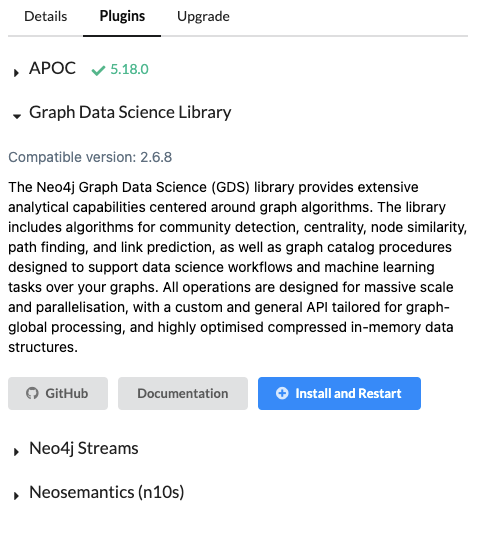 5. Getting updates
When connected to the internet, Desktop will show a notification in the Notification Center (on the sidebar) whenever an update is available, both for Desktop and Graph Apps. Keep in mind that installing an update will also restart Desktop or applicable Graph App.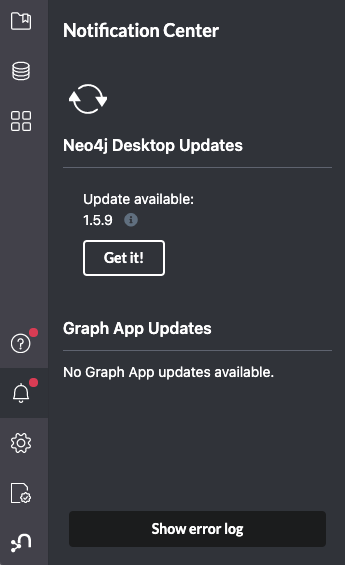 6. Upgrade a DBMS
You can upgrade your DBMSs directly in Desktop. All currently supported versions of Neo4j can be run by Desktop and upgrades can be performed between them.
| | |
| --- | --- |
| | If you are using a 3.5.x DBMS it is not recommended to use Desktop to upgrade directly to 4.1+. Please see the Migration Guide → Supported paths for more information. |
To upgrade a DBMS, click the Upgrade-tab in the right-hand pane and select which version you wish to upgrade to. If available, the release notes for the selected version are shown. Once you click Upgrade, interactive and informative dialog-boxes guide you through the process.